Sack 2,847 staff for fraud
By Elizabeth Adegbesan
NIGERIAN banks lost N55.5billion to fraudsters from 2001 to 2015 while they sacked 7,102 staff over their involvement.
Financial Institution Training Centre, FITC, revealed this in a special report titled 'Fraud and Forgery in the Nigerian Banking System: 15 years trend analysis.'
The report among other things showed that the banks lost N55.4 billion to fraud and forgeries during the review period, representing 24 percent of the N235.16 billion involved in the cases.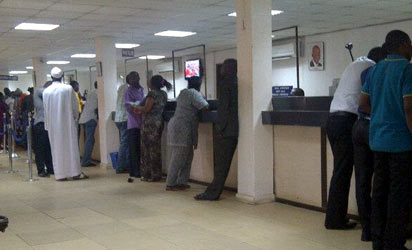 It stated: "During the review period, a total of 60,053 cases of fraud were reported in the banking industry. Of this figure, 2015 ranked highest with 13,201 (22 percent) while 2014 and 2013 ranked second and third with 12,641(21percent) and 8,705 (15 percent) respectively.
"Further analysis revealed that of the total fraud cases, 49,586 (83 percent) were perpetrated by outside persons while 7,102 (12 percent) were reported to have been perpetrated by bank staff.  Analysis of the 15 years fraud returns also shows that a total of 2,847 employees were dismissed on the grounds of their involvement in fraud during the review period with 2010 ranking highest   as 546 (19.18 percent) staff were disengaged."
On amount involved in fraud cases, the report noted: "The total amount of money that was reported to be involved in fraud cases from 2001 to 2015 was N235.16 billion. 2008 ranked the highest with N34.60 billion (14.71 percent) 2013 followed with N31.52 billion (13.41percent) and 2014 ranked third with N27.91billion (11.87 percent).
"A breakdown of the trend by fraud  types shows that miscellaneous (other types of ) fraud ranked first, accounting for N66.04 billion (28.08 percent), computer/web fraud ranked second, with N47.27 billion (20.10 percent) while clearing fraud ranked third, with N30.69 billion(13.05 percent). Captured under miscellaneous and other types of fraud are misappropriation of fund, forged certificates/documents, and conversion of dividend warrants, impersonation, and fraudulent liquidation of customers' investment, amongst others."
It further stated: "Analysis of the returns shows that out of the N235.16 billion estimated to have been involved in fraudulent activities, N55.37 billion (23.55 percent) was actually lost to fraud within the review period.
"The highest loss to fraud over the 15-year period occurred in 2010 with N11.35 billion (20.49 percent). However, the difference of N179.78 billion was recovered through the combined efforts of banks' stringent internal operational control systems, banks' staff compliance with established policies and procedures as well as support from external relevant government agencies such as law enforcement and anti-graft agencies.
"Further analysis revealed that while Miscellaneous (other types of) fraud ranked first accounting forN16.13 billion (29.13 percent) of the total amount lost to fraudulent activities, clearing fraud accounted for N7.13 billion (12.88 percent) and computer/web fraud also accounted for N7.13 billion (12.88 percent)".
Related